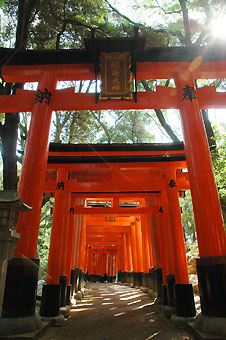 Martial Arts is a path many of us chose for life.
Open the gate to see where it leads you.
Hanshi Judan-10th Dan

Grand Master E. Dukes
Step into a Dukes' Martial Arts Academy and you'll instantly realize this is far more than a hobby or pastime. The culture established here is a way of life! Dukes' Martial Arts Specializes in the traditional instruction of Martial Arts, Karate, Fitness, and self-defense. Each one focuses on creating skills to win and training sessions to maximize every muscle and help you get in the best shape of your life.
The programs at Dukes' Martial Arts are unsurpassed because we have some of the most experienced instructors in the country. Their knowledge and hands-on experience allow you to get to your martial arts and fitness goals safely and quickly.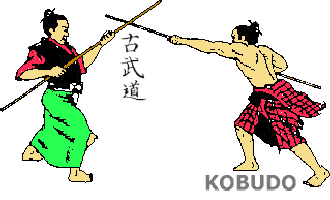 Weapons of Okinawan Karate - Japanese Terms

Okinawa, with a long history of both chinese and japanese suppression that also outlawed the possession of conventional weapons (such as swords), developed a unique range of substitute weapons that became an integral part of Traditional Okinawan Shorin-Ryu Karate. Many of these weapons were derived from farming tools.

There are five traditional Okinawan weapons, the Bo, Kama, Nunchaku, Sai, and Tonfa. Many Okinawan Karate styles include these five weapons in their training to some degree. Training with these five weapons helps to develop similar muscles as used in karate as well as hand-eye coordination and heightened reflexes. Many of the striking and blocking techniques practiced in everyday Karate can be easily adapted to use when armed with these weapons, making the transition to training with these weapons relatively easy and most beneficial to the karateka.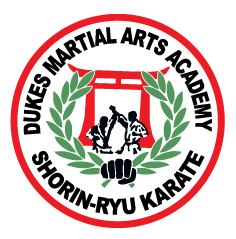 TRADITIONAL OKINAWAN KARATE WEAPONS
Nunchaku Wooden sticks joined by a cord or chain
Sai Fork-like metal weapon used as a pair
Tonfa Wooden short stick with extra handle, used as a pair
------------------------------------------------------------------------------------------------------
Traditional Okinawan Style of
Matsubayshi Shorin-Ryu Karate
Students come to Dukes Martial Arts Academy to study martial arts for different reason. While Shorin Ryu Karate is know around the world as one of the most fowerful forms of martial arts with its dynamic kicking and hand techniques, students easily learn at their own pace and ability level so they reach their own personal goals. We believe that we are able to continue to successfully grow our schools because our students realize that our mission is to teach self-defense while also fostering the personal development of each and every karate student. We offer programs for adults and children, each fostering the development of integrity, self-control, confidence, perseverance, respect, loyalty and self-esteem. As professional martial artists, we have dedicated our lives to the betterment of our sport - and operate this school with the even more important goal of educating children and adults to become physically and emotionally strong.
We have years of training in martial arts and experience in working with children. Our instructors are specifically trained to teach martial arts through motivation and encouragement.
Our instructors develop students' desire to improve and grow so that the motivation to excel comes from within. To us, this is truly the best form of leadership.
We are martial artists who stand tall and live strong. That's what sets us - and our students - apart from the crowd.

See Somthing You Like Just Click On It
Tips on finding the right school
How Martial Arts Improves Confidence

Master Dukes program partners
with parents to help keep kids safe
and educate them in ways that will
help them cope with the problems
they face on a day to day basis.
We believe in the concept of building
inner strength and character to help
young people enjoy life to its fullest.
The Power of Martial Arts and Confidence

Confidence truly is one of the keys to staying safe and "Stopping The Bully!"

Children who train in the martial arts learn powerful skills to defend themselves, stand up to Bullies and stay safe in almost any situation. Knowledge truly is power! Give your children the power, knowledge, skills and CONFIDENCE to stand up for themselves, stop the bully, resist peer pressure and BE SAFE!

_________________________________________________________________

HOME SCHOOLING

Physical Education Program for your kids

Record Your Activities and Get Your Credit Hours
CLASS SCHEDULES
_________________________________________________
New Beginners Class
Shorin-Ryu Karate:
Mondays, Tuesdays & Thursdays / White Belt / Yellow Belt / Orange Belt
4:00pm - 5:00pm - 6:00pm Adult Classes 7:00pm
Keeping kids focused and motivated is hard work so Master Dukes go's out his way to make learning fun.We realize that to keep a child's interest, you must keep them involved and at our school, there is no bench warmers everyone gets involved in every class we teach.
And our safe, supervised individualized training builds winners by giving your child increased self-confidence and self-esteem.
____________________________________________________________________________

Adult Classes
Shorin-Ryu Karate:
Do you want the benefits martial arts training? an adult martial arts program is a complete, head full body workout that combines punching, kicking, and self-defense. Our program emphasizes simple movements, allowing people of all ages and fitness levels to get in great shape and learn real self-defense. We are pleased to offer karate to all-adults men & woman.
Enrollment & Monthly Fee
$80.00 Enrollment + $50.00 1st Month
total $130.00 includes
FREE UNIFORM
Family of two (2) Enrollment $80.00 which includes ONE FREE UNIFORM
for first person + $50.00
Second person $40.00 1st month fee
Uniform not included, which is $40.00
Price on student uniforms $40.00 Middleweight 7.25oz
Cotton/Polyester twill fabric means minimal wrinkles after washing
A total of $210.00 to join today
Family of two $90.00 Monthly Fee
Each additional person $40.00 a month
___________________________________________________________________________
DISCOUNT FOR THE HANDICAP
Teaching the Disabled
"We service the needs of people that face a multiplicity of life and daily challenges."
Everyone from those with common attention deficits to the blind to those bound to braces or wheelchairs; I don't see this as a chore, I don't see it as a problem; I see it as a labor of love. Just call Master Dukes at (704) 796-8902 for discount
After School Program
Registration for NEW Classes
click here to download student aplication

Please fill out the form and take it to the training facility and see our
master instructor for classes Thank You
Dukes Martial Arts Academy Payments: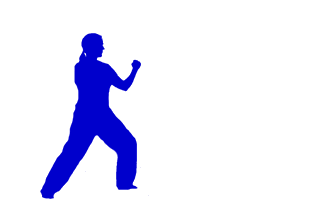 SENIORS SELF-DEFENSE

Ages 50 and up

With a little help, you too can be a

"SUPER FOOT"

(This is not Karate)

If You're Only Gonna Do One Program

Make It This One!

It's what you've been looking for all along

Think Ahead!

Now, think of a time in the near future. A time when you realize that

being in this program was the smartest thing you EVER DID!

See yourself in action!

Moving faster and hitting harder!

Learn things you've never been told and shown stuff you've never seen!

This system is simple and easy to learn....

Easy to remember and above all... Highly effective!!!

So come workout with

Grand Master Dukes
Children love learning at our academy. During every class, we establish a safe and encouraging environment. We build confidence and celebrate each and every accomplishment. Programs are high-energy, fun and interactive.
Learning martial arts is a physical endeavor, involving all muscle groups to help develop the student's inner core physical strength. Because of this, Shorin Ryu Karate and other martial arts excellent tools in obesity prevention.
But our emphasis encompasses more than just learning physical moves. It's about developing positive character and life improvement skills in each and every student.
The value-based curriculum helps focus a child's growth in becoming polite, confident and mature individuals.